Do you love reading Japanese? We do, too. We have created Yomi.ai to spread the love for immersive language learning and create more successful JLPT test takers. Yomi.ai stands for better literacy by reading real Japanese.
Read thousands of authentic Japanese texts for free or start a free trial for a guided approach to improved reading skills.
Read Japanese
Features
No Account
Account
Read 5,700 authentic Japanese texts
Toggle Furigana
Word Splitting
Grammar Hints
Japanese ⇨ English Dictionary Lookup (alpha - Kanji)
JLPT-style Reading Comprehension Assessments
Vocabulary Quizzes
Listening / Speaking Practice
Bookmarks
Highlight Unknown Kanji
Add Known Vocabulary
WaniKani Importer
Sort Texts by Your Reading Skill
Features in active development
Full Japanese ⇨ English Dictionary Lookup
Japanese ⇨ Japanese Dictionary Lookup
Video Lessons (production starts Summer 2020)

Try it
---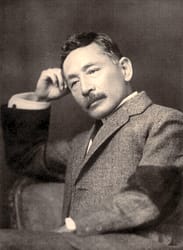 夏目 漱石
Natsume Sōseki (夏目 漱石) (02/09/1867-12/09/1926) a Japanese novelist known for his novels such as Kokoro (1914), I Am a Cat (1905), and Botchan (1906), among many others. Sōseki was a British literature scholar and graduated from the English Literature Department of Tokyo Imperial University. He was also a haiku, kanshi, and fairy tales composer. Sōseki is thought to be the father of modern Japanese literature and provided a modern take on Japanese literature.
Start reading:
What we do
Yomi.ai aims to make authentic Japanese accessible and comprehensible, thus becoming a facilitator of effective language learning. Right now, you can read Japanese texts that are in the public domain on this website. We use natural language processing technology to identify structures in these texts and label them accordingly. Features such as word-splitting and toggling furigana are available to help you comprehend the meaning of the text without giving you a translation in English. More features, such as reading recommendations based on kanji knowledge, are available to readers with an account. We will not read the texts for you (not yet, at least) ー instead, we are helping you become a better Japanese-reader.
Read more about why we built Yomi.ai and what you can expect from us in the future or try a random reading.